Grand Cornish Wrestling Tournament
At St Mawgan Saturday 20th July 2013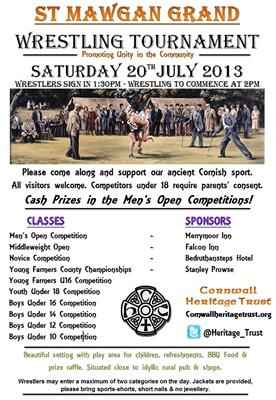 Please support our ancient, Celtic martial art by attending our St Mawgan Wrestling Tournament on Saturday 20th July at 2pm.
Click on the poster to the left for more details.
Events
This year's Cornish Wrestling Events

Dydh da!
Or for those of you not yet fluent in Cornish, 'Hello!'
St Mawgan Tournament
The finest Cornish Wrestling tournament of year, an event not to be missed.
Join us on the 20th July 2013 in the picturesque village of St Mawgan.
---
© Ashley Cawley 2013
NaturalBushcraft.co.uk